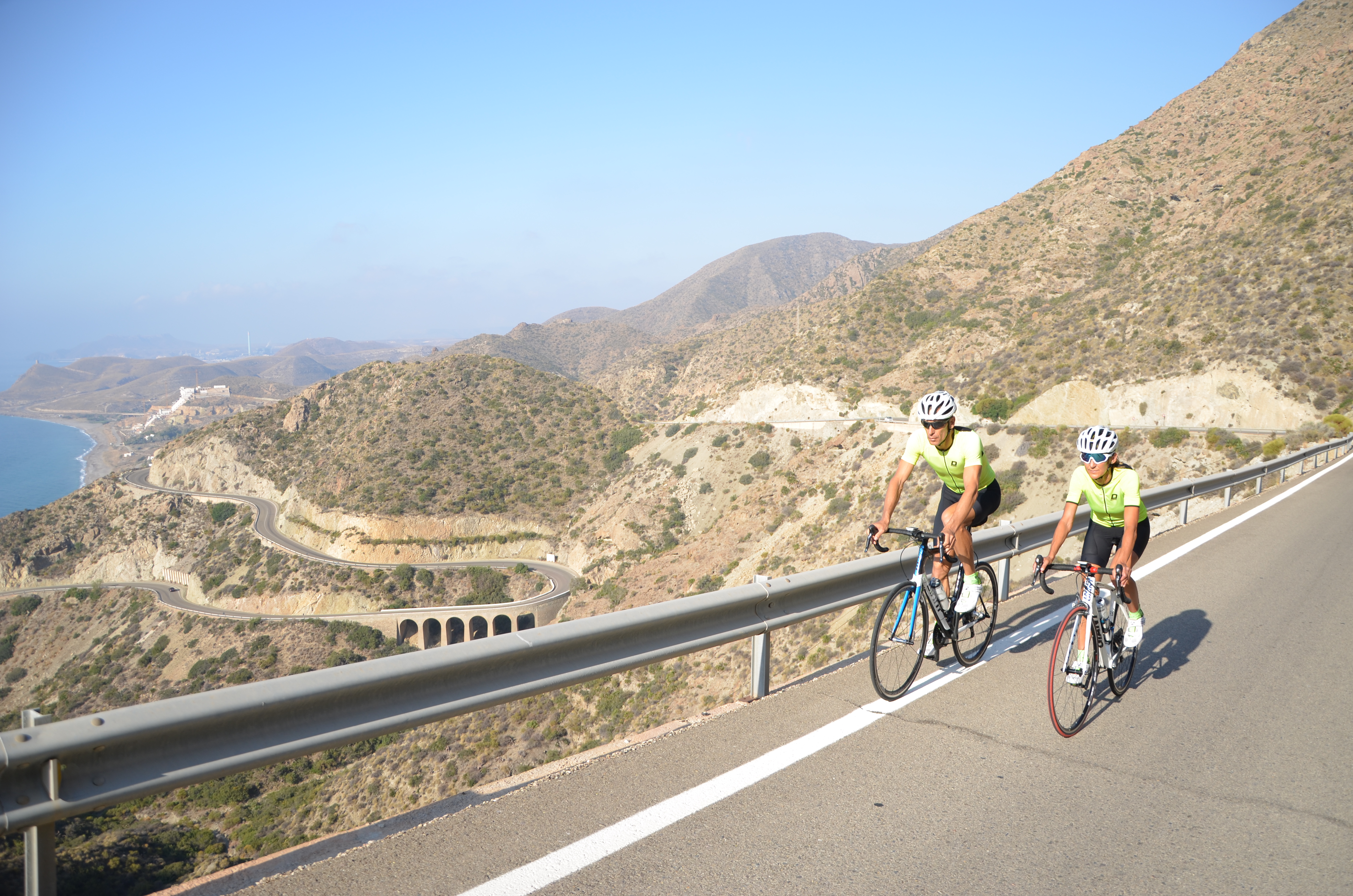 These five reasons will convince you to come to Mojácar and enjoy
the best cycling experience this country can offer
Mojácar is a trailrunning / triathlon training / cycling destination that has gained popularity in recent times over other Spanish destinations such as Mallorca, Girona or the Canary Islands. Scenic landscapes, a mild and pleasant weather during the whole year, hundreds of kilometers of winding roads with little to no traffic and a compelling cultural and gastronomic offer are some of the reasons. In this article we give you five reasons why you should choose Mojácar as your base of operations for your next trail running / triathlon training / cycling camp or holidays.
1.- The beauty of its landscapes.

Imagine arriving to an oasis after a few days of traveling through the desert. That's how the romantic travelers of the 19th century used to feel when arriving to Mojácar's province from northern areas. They were welcomed by Sierra Cabrera, a 950-meters-high mountain range with a village standing on top of a small mountain, a place nowadays is still sourrounded by depths, chasms and lush vegetation that extends all the way to Valle Almanzora (also know as "The Sunshine Valley"). Its roads don't have much traffic, the citric crops and farms sketch a landscape of outstanding natural beauty.
Another popular region is the Sierra of Bédar, to be found between the Sierra de Filabres and the sea, resulting in a succession of  steep hills encircled by almond and orange croplands and fantastic sea views. Apart from that, the "Sierra de Almagro" as well as the "Sierra Almagrera", along one of the most beautiful coastlines, offers a great number of possibilities when it comes to cycling, with long climbs and amusing descents at high speed that end up next to the sea. Furthermore, Mojácar is located in between all those areas, the Sierra de Bédar, Almagro, Almagrera, the Almanzora Valley and the coast, becoming an ideal destination and a true enjoyment for all cyclists and triathletes, thanks to a wide variety of cycling routes and landscapes.

2.- Its extensive and well-maintained road network.
The geography of Mojácar province is rough in almost all its extension. The importance of Mojácar and the town's own location in the most southeastern part of Spain has enabled since ancient times opening roads towards the rest of the country through its valleys, resulting in small settlements in the foothills of the mountains.
The connections between all those villages helped to shape a vast secondary road network that is now well-maintained and in good condition. For example, the good state of repair of most of roads help to have a comfortable and safe descent. In our attached cycling map you may well see the amaz 50 30ing variety this area offers for cyclists and triathletes.
3.- Ride like a pro at your own level.

The geographical diversity of Mojácar and its province is a blessing in many ways. You won't need to ride 200 km to include within the same stage a variety of climbs, descents and flat sections, you could fit them all in 50, 70 or 100 km and still feel like the stage of your life. The variety of mountains is so big we could choose to enjoy defying climbs with a 12%-15% average gradient in relatively short distances while there are others to be found below the 10% gradient but to a much longer distance.
This means that the combinations available to create a cycling holiday are unlimited, allowing us for example to cross anytime from a steep climb on a natural park to an impressive descent overlooking the beautiful southern white villages and cool down on a road by the beach while seeing a beautiful sunset.
If we think of the landscape diversity that entails the high mountain climbs and the fact of finding ourselves in a relatively short distance to the sea, we have as a result a unique enclave for our enjoyment, what coupled with the special charm of the villages across the province make cycling in Mojácar an exceptional experience and above all, very authentic.
4.- Beat the winter blues with a dose of amazing warm weather.

Mojácar and its coastline are synonymous of good weather. According to the State Meteorology Agency, the town enjoys about 2995 hours of sunlight a year.The main reason lies on its latitude, the northern half of Spain is in a temperate zone while the southern half of Spain where Mojácar lies is part of the sub-tropical zone. It tops at an unmatched number in the whole Spanish territory, with almost 3000 hours and 335 days of annual sunshine. The weather is sunny and dry. Winter is generally temperate, with mild temperatures which don't fall below 6 degrees, it never gets to freeze. Summers are moderate thanks to the sea proximity and stifling heats are very unlikely. The great number of sunshine hours combined with the winter mild temperature result in a privileged spring  contributes to make Mojácar an ideal destination for an ideal training camp.
5.- Anything else?

In addition, Mojácar and its province are sometimes part of the stages of "La Vuelta" (the professional cycling tour of Spain). The attractive of Mojácar and its province is undeniable and as enthusiasts of cycling, its traditions, adventure and the exploits it brings to our life, we would like to invite you to share this beautiful experience with us.
If you are planning a trip on two-wheels to the sunny province of Mojácar, do not hesitate to book your travel and training camp today!